Bezaudin sur Bîne is a rural district in the Bourdeaux district with scattered settlements. The altitiude varies from 400 to 1547m; the highest peak on the Couspeau range, the Grand Delmas.
The village is situated either side of of the road going from Bourdeaux to Saillans and crossing the Chaudiere Passs (1047m). The Tower is the only remains of the Bezaudun Castle recorded in 1211.
There are two bridleways in the area, one of which skirts the foot of the Tower. The 'Huguenots Way' also crosses the area. A protestant church was erected in 1858, on the Tonils road.
During the summer, the natural camping area and its swimming pool welcome the tourists in its green and tranquil setting, near the river Bîne. Duirng the months of July an August a market of local products takes place every Sunday morning.
Farming here produces quality products: lamb, poultry, snails, both organic goats'cheese and vegetables.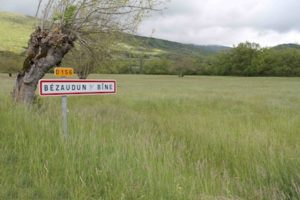 Inhabitants  : Bézaudunois
Population : 74
Area : 1797 hectares
Average altitude : de 439 à 1532 m
Mayor : Guy Bompard