Quality
QUALITY – About US ?
Fonctionnement et organisation de l'association
"OFFICE DE TOURISME DU PAYS DE DIEULEFIT-BOURDEAUX"
See the legal statutes  –Cliquez ici
See the organization chart of the Board of Directors – Cliquez ici
The Tourist Office Pays de Dieulefit-Bourdeaux is certified NF Service since November 14, 2016.
It focuses its quality policy in terms of reception, information, promotion and communication.
By engaging the Tourist Office in a quality approach, we are part of a continuous improvement scheme. The team of the Tourist Office is therefore committed to implementing a quality policy covering three main targets: the satisfaction of visitors, service providers and elected officials.
This mark proves compliance with the NF X 50-730 standard and the NF 237 certification rules.
It guarantees that the reception, information, promotion and communication activities, the evolution and the improvement of the quality of service are regularly monitored by AFNOR Certification – 11 rue Francis de Pressensé – 93571 LA PLAINE SAINT-DENIS Cedex – France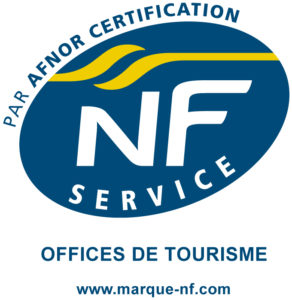 OBSERVATORY
Its mission is to collect existing quantitative and qualitative statistical data and to analyze them. The analysis allows a better management of supply and demand in the territory.
It is also, and above all, an instrument for decision-making in the area of ​​investment