A médiéval village
A medieval hilltop village classified as "One of the most beautiful villages in France". The fortified village of Poët-Laval, with its impressive medieval keep, stands out in this landscape of wooded hills surrounding Dieulefit, in Drôme Provençale.
Founded during the 12th century by the Knights Hospitallers, the village has been through turbulent periods since the Middle Ages, like most hilltop villages in the region. Religious wars marked the start of a slow decline. Four centuries later, Poët had almost turned into ghost town.
But life has finally got back to normal, thanks to the determination of a few dedicated people who saved what they could and then brought it back to life. The Friends of Old Poët-Laval association, formed in 1926, managed to halt the looting of the neglected village, then provide both the material resources and the manpower needed to renew it.
Poët-Laval of today
The present Poët may be different in many ways from the medieval village it was, but it is by no means a soulless museum : it retains an authentic spirit thanks to a constant collective effort to protect this outstanding site and its natural environment.
The village of Gougne started to develop in the 18th century, down in the valley on the banks of the Jabron river. These days it is the administrative centre, where the town hall, school and shops are located.
Inhabitants  : Poët-Lavaliens
Population : 941
Area : 31,22 km2
Average altitude : 307 m
Not to be missed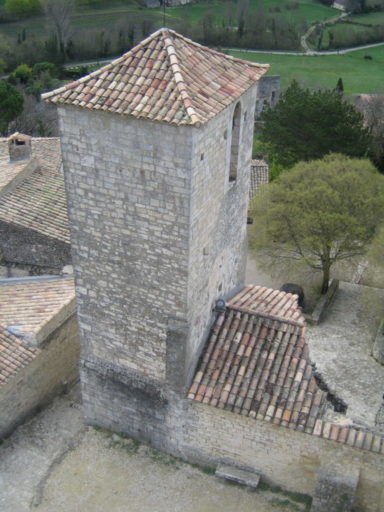 Starting point of the trail "Sur les Pas des Huguenots" : a European hiking path of 1,800 km (1,120 miles) retracing the historic route of Dauphiné Protestants fleeing from Le Pöet-Laval (Drôme) towards Bad Karlshafen (Germany) in the 18th century. www.surlespasdeshuguenots.eu
Starting point of "Tour du Pays de Dieulefit", a long-distance hiking trail. Total distance : 100 km (62 miles).
The museum of Dauphiné Protestantism (16th century), the castle (17th century), the St Jean des Commandeurs chapel, the Commanderie and the Raymond du Puy International Centre of Art and Animation.
Guided tours of the castle every Wednesday morning in July and August, appointment at 9:30 in front of the castle. Group visit all year on appointment.
Friends of Old Poët-Laval :
e-mail : amis.poetlaval@gmail.com