The secrets of Picodon Cheese
Picodon cheese, a typical goat cheese from our region
Let me introduce myself: My name is Bêêêla, I'm the mascot of the Dieulefit-Bourdeaux Tourist Office. I couldn't miss the chance to write an article about Picodon cheese!
The different stages of production:
I give milk that will be mixed with a small amount of rennet (animal milk coagulant)
Then, the curd is molded with a ladle into faiselle pots (rounded edges and drilled)
While draining, the cheese is turned over at least once
The cheeses are then removed from the molds, dried and ripened "Dieulefit-style"
Picodon cheese can be eaten immediately or cured a bit longer.
The « Dieulefit-style » ripening process:
Its main characteristic is its goat-like flavor and slightly spicy taste. It has white or light cream rind.
The characteristics of the « Dieulefit-style » ripening process are:
A first maturing stage in their crates during at least 15 days in a humid room, in order to help the development of surface mold (bluing)
A rinsing with clear water stage which allows to get rid of the surface mold, to moisten the cheese and to enhance the flavors (at least two rinses are needed)
A second maturing phase in a room saturated with humidity for 8 days minimum, brings the "Dieulefit-style" Picodon cheese to maturity (taste and texture)
The commercialization of the product occurs at least one month after renneting. This period can be extended to 2 months or more depending on the customer preference. The taste can vary from mild to strong depending on the ripening process.
Pumpkin and Picodon chesse muffin recipe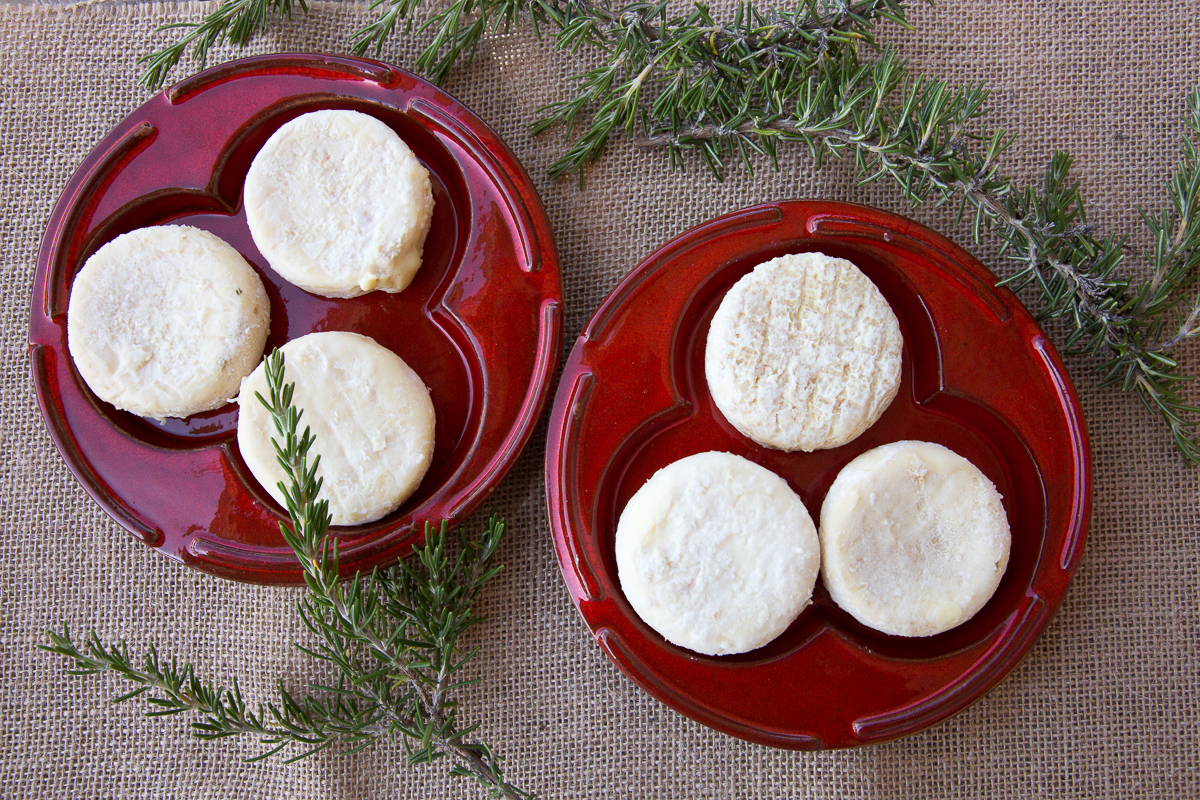 1 ripened Picodon cheese, 200g pumpkin (1 cup + ¾ cup), 2 onions, 100g diced bacon (½ cup), 2 tbsp oil, 2 eggs, 70g flour (½ cup), 1 sachet baking powder (2 tsp), 40g butter (1/3 stick)
Pre-heat the oven to 200°C (Th. 6/7)
Chop up the pumpkin and cook it for 20 minutes in boiling water
Drain and mash it until smooth
Mince the onions, grate the Picodon cheese
In a pan, stir fry the onions at medium heat with the diced bacon
In a bowl, blend in the melted butter with the beaten eggs
Add the flour, baking powder, pumpkin purée, diced bacon, onions and grated Picodon cheese
Add pepper and stir gently
Pour the mixture into a muffin tin
Bake for about 20 minutes
Serve warm or cold
Enjoy !